TNPL 2023 Teams List – TNPL 2023 is going to start very soon. After the auction held in February 2023, the rosters of all the teams have been filled. Now just waiting for the start of TNPL 2023. Let us know in this post about the teams playing in 2023.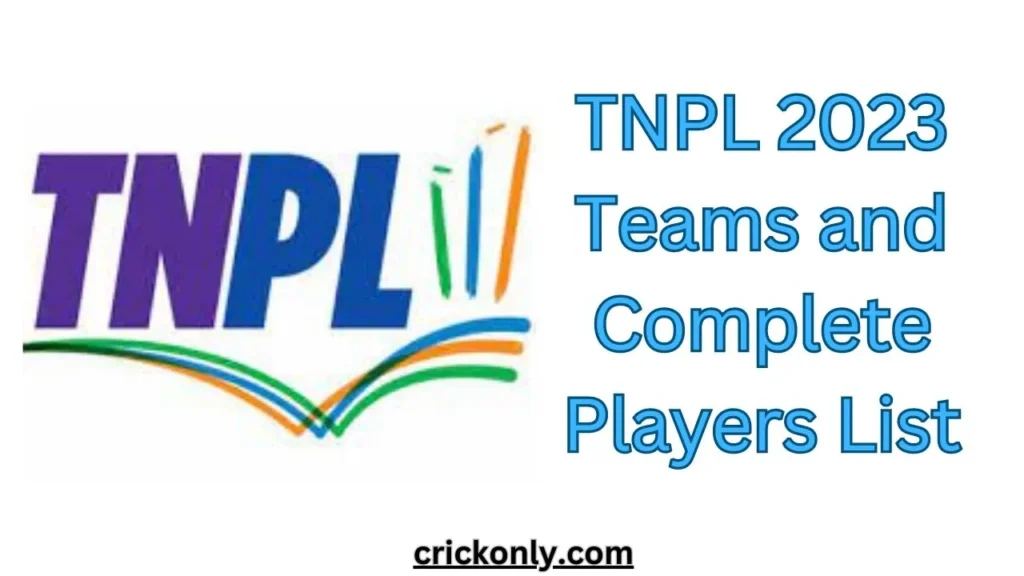 TNPL 2023 – Tamil Nadu Premier League 2023
TNPL 2023 – Tata IPL 2023 starts on Monday, 12th June 2023. Tamilnadu Cricket Association has announced the timetable of TNPL 2023 on Monday, 12th June 2023 and the final will be played on Sunday, 12th July 2023.
| | |
| --- | --- |
| Edition | 6th |
| Host | Tamil Nadu (India) |
| Start(When TNPL 2023 Will Start) | Monday, 12th June 2023 |
| Final | Sunday, 12th July 2023 |
| TNPL 2023 Teams | 8 |
| TNPL 2023 Total Match | 32 |
| Current Champion | Chepauk Super Gillies |
| TNPL Website | https://tnpl.cricket/ |
Tamilnadu Premere League 2023 Details
TNPL 2023 Teams – TNPL Team List 2023
A total of eight teams will participate in the sixth edition of TNPL, names of TNPL 2023 are as below.
Chepauk Super Gillies
Dindigul Dragons
IDream Tiruppur Tamizhans
LYCA Kovai Kings
Nellai Royal Kings
Ruby Trichy Warriors
Salem Spartans
Siechem Madurai Panthers
TNPL 2023 Teams and Players List
According to TNPL rules, a team can have a minimum squad of 15 and a maximum of 20 players in the auction, which are bought for a purse of 70 Lakhs. Let's know the squad/roster of all the teams
Chepauk Super Gillies Squad 2023
U Saidev, Narayan Jagadeesan, Sanjay Yadav, Baba Aparajith, Pradosh Ranjan Paul, Harish Kumar S, Sathish R, Rahil Shah, Rohit R, Silambarasan M, Sibi R, Mathan Kumar S, Santosh Shiv S, Viju Arul M, Lokesh Raj TD, Rocky B, Ayyappan.
Dindigul Dragons Squad 2023
R Ashwin, Varun Chakravarthy, Baba Indrajith, Subodh Kumar Bhati, Saravana Kumar P, Shivam Singh, Kishore G, Hemanth Kumar G, Vimal Khumar R, Diran VP, Boopathi Vaishna Kumar, Mathivanan M, Tamil Dhileepan ME, Advaith Sharma, Rohan Ravi Bhutra, Sarath Kumar C, Arun S, Vignesh P, Affan Khader M.
Siechem Madurai Panthers Squad 2023
Gowtham V, Murugan Ashwin, Washington Sundar, Kousik J, Swapnil K Singh, Hari Nishaanth C, Shijit Chandran P, Sri Abisek S, Aaditya V, Gurjapneet Singh, Anton Andrew Subikshan M, Deeban Lingesh K, Saravanan P, Krish Jain, Rahul D, Sudhan D, Ajay K Krishnan, Ayush M, Surya B, Karthik S
Lyca Kovai Kings Squad 2023
Shahrukh Khan, J Suresh Kumar, M Siddharth, Sai Sudarshan, M Mohammed, Sachin B, Gowtham Thamarai Kannan K, Kiran Akash L, Mukilesh U, Atheeq Ur Rahman MA, Vidyuth P, Yudheeswaran V, Ram Arvindh R, Hemcharan P, Divakar R, Jhathavedh Subramanyan, Sujay S, Om Prakash KM.
Nellai Royal Kings Squad 2023
G Ajitesh, VS Karthik, Mohan Prasath, Sandeep Warrier, Arun Karthik, Aswin Crist A, Nidish Rajagopal, Sri Neranjan R, Mithun R, Rithik Easwaran S, Suryapprakash L, Poiyamozhi M, Harish NS, Emmanuel Cherian B, Rohan J, Sugendhiran P, Adithya A, Arun Kumar SJ.
iDream Tiruppur Tamizhans Squad 2023
Tushar Raheja, Vijay Shankar, R Vivek, R Sai Kishore, Anirudh Sita Ram B, Chaturved NS, Periyasamy G, Trilok Nag H, Vishal Vaidhya K, Rahul Ayyapan Harish, Ganesh S, Mohamed Ali S, Manigandan S, Radhakrishnan S, Vetrivel I, Karuppusamy S, Bhuvaneswaran P, Ragavan M.
Ba11sy Trichy Squad 2023
W Anthony Dhas, T Natarajan, Daryl S Ferrario, Monish Satish, Athisayaraj Davidson, Ganga Sridhar Raju, Silambarasan R, Jafar Jamal, R Alexandar, Mani Barathy K, Rajkumar R, Shajahan M, Francis Rokins, Akshay V Srinivasan, Easwaran K, Godson G, Mohamed Azeem K, Saran T, Vinod SP, Karthick Shanmugam G.
Salem Spartans Squad 2023
M Ganesh Moorthi, Jaganath Srinivas RS, Kaushik Gandhi M, Abhishek Tanwar, Akash Sumra, Maan K Bafna, Sunny Sandhu, Abhishek S, Mohammed Adnan Khan, Amit Sathvik VP, Gowri Sankar J, Mokit Hariharan S, Guru Sayee S, Yuvaraj V, Karthikeyan R, Kavin R, Sachin Rathi, Prasanth R, Aravind S.
Read Also –
TNPL 2023 Related FAQ
How many teams will play in TNPL 2023?

TNPL 2023 Teams – A total of 8 teams will play 32 matches in TNPL 2023.

When is the Final of TNPL 2023?

What is TNPL 2023 Prize money?

The winner of TNPL 2023 will get a total of 1 Cr INR Rs.
For more details about TNPL 2023 Teams, you can visit the official site of TNPL.